A Revolution In Wound Care!
ABOUT THIS PRODUCT
Like gut flora, skin flora are an important part of the body's natural defences. The active pre- and probiotics in Cavalor Derma Spray reinforce the army of good bacteria on the skin and protect the skin flora to support the natural defence mechanisms.

Use Cavalor Derma Spray natural cleansing spray on the skin, coat, mane, and tail. Ideal for treating common wounds, itching, irritation and other skin problems. For horse lovers, it's a must-have in the stable.

Its pH neutral formula is specially made to strengthen the natural defences of equine skin and ensure healthy microflora. "Good" bacteria cover the treated surface and reproduce quickly to form a barrier and inhibit other organisms from settling. This helps to prevent and alleviate serious skin problems.

Cavalor Derma Spray can also be used to clean wounds, supporting the body's natural healing process.
DID YOU KNOW
The power of pre- and probiotics. Bacteria, both good and bad, is all around us. If the horse has a weakened immune system or too much "bad" bacteria, these will gain the upper hand, making the horse more susceptible to bacterial or fungal infections.

Organisms can spread everywhere, especially via brushes, headcollars and rugs. Horses can also be carriers of fungi – without showing any symptoms themselves. So it is certainly important to keep bacteria and fungi populations under control.

Don't forget that the coat acts as a mirror to your horse's internal health. A dull coat may be caused by internal issues, such as when nutrients are not being properly converted.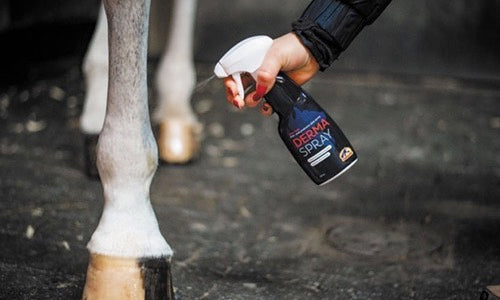 HOW TO USE
To treat skin microflora imbalances (itching, pastern dermatitis, wounds, skin problems): Apply twice a day to the affected area or use daily preventively to keep the skin healthy.

Warning: For external use only.
INGREDIENTS
Cavalor Derma Spray contains pre- and probiotics. This revolutionary new approach can help to lessen the overuse of antibiotics and antimycotics (antifungal agents). Its pH neutral formula is specially made to strengthen the equine skin's natural defences and ensure healthy microflora.

More information about this product can be found in the product data sheet. You can download this data sheet by clicking on "specifications"
Very handy to have around!
Easy to use and a perfect accompaniment to Lurax Cream.