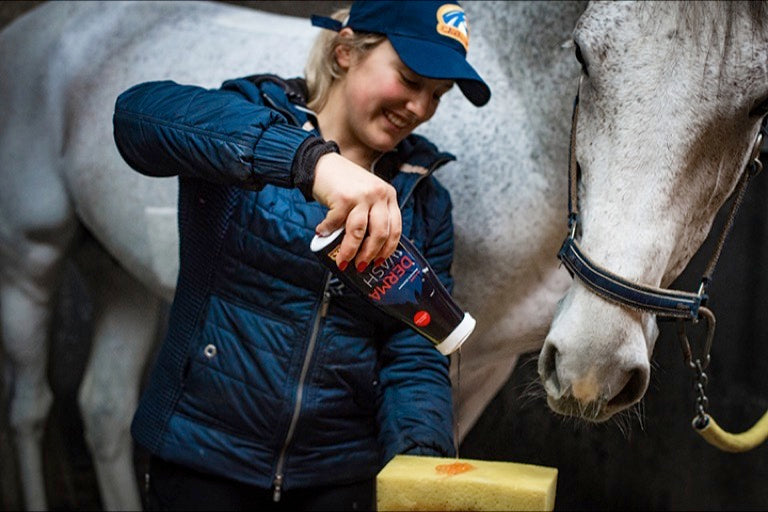 ABOUT THIS PRODUCT
Cavalor Derma Wash is a deep-cleaning shampoo with chlorhexidine for washing horses with flaky skin, dull coats or skin disorders. It is also the ideal shampoo for washing newcomers to the stable.

Cavalor Derma Wash is pH neutral and enhanced with glycerine to moisturise the skin and give your horse a shiny coat. Cavalor Derma Wash can also be used to clean horse rugs, saddle cloths, leather, etc.

For cleaning wounds or genital areas, it is recommended that you first use Cavalor Derma Spray on these areas.
DID YOU KNOW
Human skin has a natural acidity of 4.0 – 5.5, but the optimum pH of equine skin is 7.0 – 7.4. The use of products with low pH values (like shampoos for people) will cause moisture to be absorbed from the horse's skin, making it dry and flaky.

Products with high pH values (like strong detergents) absorb the skin's natural sebum, leaving it vulnerable to infections.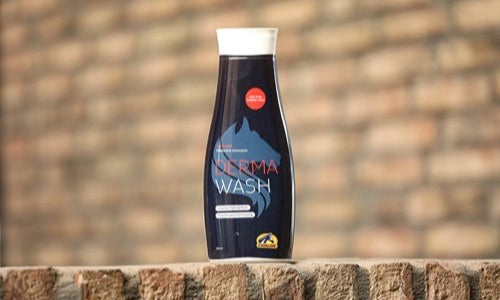 HOW TO USE
Add a little bit (+- 30 ml) of Cavalor Derma Wash to a bucket of lukewarm water or apply directly with a sponge, either to the whole body or just to the affected area. Allow to soak in, then rinse thoroughly with water.

For preventive use, wash the horse with Cavalor Derma Wash once a month or after close contact with other horses (at yards or on hacks).

Cavalor Derma Wash can also be used to deep clean leather or other tack items.
Use 30 ml of Cavalor Derma Wash instead of detergent in your washing machine to clean textiles.

Use Cavalor Derma Spray to clean wounds or sensitive genital areas.

Warning: For external use only. Keep out of reach of children.
INGREDIENTS
Why chlorhexidine?
Chlorhexidine is generally well tolerated. Unlike other disinfectants (such as iodine), chlorhexidine will not dry out the skin or discolour equine coats. Studies have also shown that chlorhexidine works longer and more extensively.

The ingredients in Cavalor Derma Wash were carefully selected for quality and performance. Certain dyes and soaps can reduce the effectiveness of chlorhexidine. This careful selection of different ingredients is the reason why Cavalor Derma Wash does not foam as richly as other shampoos.

More information about this product can be found in the product data sheet. You can download this data sheet by clicking on "specifications"
A must have in your wash box!
A great product that is kind on the horses skin but also cleansing. My horses coats are clean and feel conditioned after using this product
Exceptional product.!!
Cavalor products are exceptional, high quality and I would not use anything else from now onwards as they offer outstanding results, the derma wash is a staple in my grooming kit I use a splash for washing off after exercise and it has cleared the mud fever up completely on my 20yr TB and 3 Yr old warmblood. Just fantastic.! Thank you cavalor for to such attention to detail in each product.!
Derma wash is great
I used derma wash on my horse's legs as they are currently shedding very long hair and are quite scurfy. It helped remove the scurf and loose hair and his white feathers looked great afterwards. He has sensitive skin and it didn't irritate it at all. A great product.
Excellent Product
Very good for mud fever scabs. Can recommend.
Derma Wash
Great product and very good service!