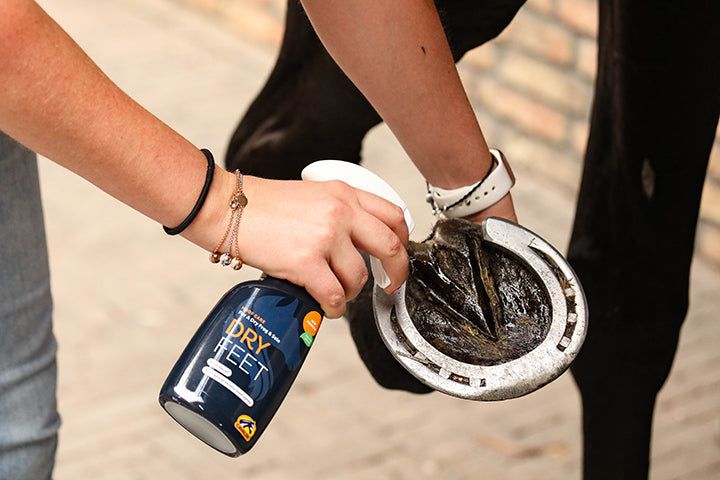 ABOUT THIS PRODUCT
Cavalor Dry Feet has a new natural formula with pre- and probiotics. It protects the sole and frog with beneficial microflora and actively supports the hoof's natural defences.

Veterinary surgeons, farriers, grooms, and riders worldwide use this product to treat the soft areas of equine hooves. Cavalor Dry Feet has a new formula that is 100% natural and contains a combination of good bacteria (probiotics) and the prebiotic inulin.

Inulin stimulates the formula's probiotic activity as well as the beneficial microorganisms already present on the hoof. Together, they colonise the entire hoof surface, actively reducing the risk of thrush
DID YOU KNOW
Thrush is a common hoof problem that affects the frog. Horses with deep collateral grooves and narrow heels have a higher risk of contracting thrush. Even when your horse's environment is kept as clean as possible, there are still always risks. Horses often stand in manure in their stables, or in wet, muddy paddocks.

These environments make the hooves vulnerable to thrush and the damage it causes. The damaged tissue can affect the sensitive structures of the hoof and cause lameness.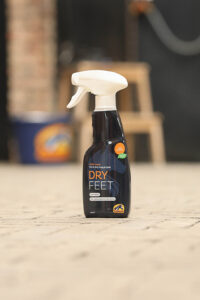 HOW TO USE
To treat soft frogs or soles: Apply twice daily to the cleaned hoof, or use preventively twice a week to keep frogs and soles healthy.

Warning: For external use only.
INGREDIENTS
The pre- and probiotics in Cavalor Dry Feet are selected specifically on the basis of the natural microflora present on the hoof. Cavalor Dry Feet helps to strengthen the good bacteria on the hoof to resist any invaders. The frog and sole of the hoof become stronger and healthier.

More information about this product can be found in the product data sheet. You can download this data sheet by clicking on "specifications"
Excellent service
Super speedy delivery especially as it was just before Christmas, very impressive. Always buy this through winter and spray on about 3 times a week as it seems to keep thrush at bay which he is prone to.
Cavalor dry feet
If only I found this product years ago . Amazing.
Fab product
Love cavalier dry feet one of my cobs has been struggling with thrush for a while and this has cleared it up in a couple of weeks really easy to use and does the job