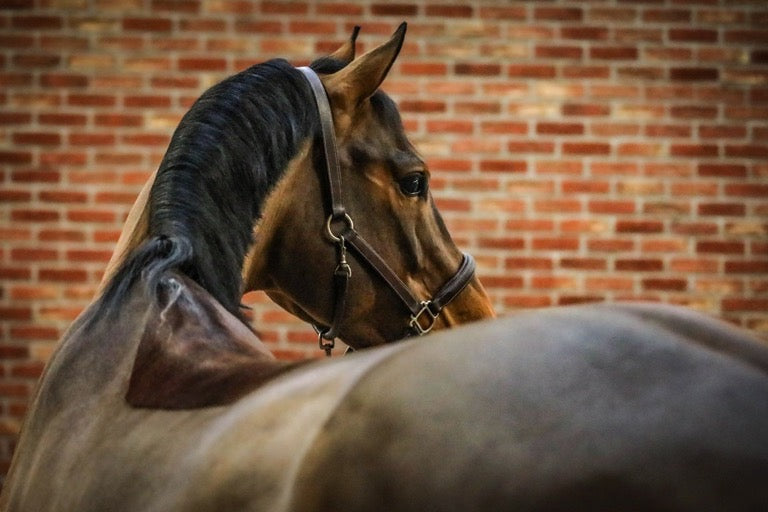 For Ultimate Stomach Management
ABOUT THIS PRODUCT
Cavalor Gastro Aid creates a healthy environment in the stomach by neutralising gastric acid and protecting the stomach wall.

A horse's stomach produces acid continuously, making it very susceptible to developing wounds or sores. The herbs in Cavalor Gastro Aid help to protect the stomach wall against excess acid.

They provide extra support for the stomach by stimulating saliva production and promoting the healing of ulcers.
DID YOU KNOW
A horse's stomach is constantly producing acid. When the stomach is empty, this acid will irritate the stomach wall, causing sores or ulcers. There are several ways to protect the stomach from the effects of excess acid.

Ideally, the horse should have hay available ad libitum, as the fibre in hay creates a protective fibrous coating in the stomach which absorbs acid and prevents it from attacking the stomach lining.

In addition, the horse's feed should be low in sugar and starch. Sugar and starch increase acid production.

Feed management is essential to preventing stomach ulcers, but once ulcers are diagnosed, they are more likely to recur. It is therefore recommended that horses prone to stomach ulcers receive daily support.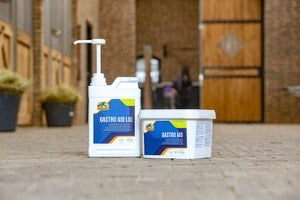 HOW TO USE
Once the horse has recovered and is eating better, you can switch from the paste to the powder or liquid version.

The liquid and powder versions can also be used as daily preventive measures for horses prone to stomach ulcers.

Unlike omeprazole, it does not shut down stomach acid production, but works to protect the stomach from acid damage.

Recommended use of Gastro Aid: Mix 30 g into feed daily for at least 4–6 weeks.
1 measuring scoop = 10 g.
Maximum 100 g per day
INGREDIENTS
Cavalor Gastro Aid contains herbs and yeast cultures that protect the stomach wall and help to neutralise stomach acid, keeping it from attacking the stomach wall. Cavalor Gastro Aid also speeds up the healing process when damage to the stomach wall has already occurred.

More information about this product can be found in the product data sheet. You can download this data sheet by clicking on "specifications"
Not as effective as I'd hoped!
I bought both the Cavalor pastes and powder after reading the reviews. (I was looking for an alternative to another brand which had to be administered daily with a syringe)
Sadly I haven't seen the same impact with cavalor, which is a shame as I had high hopes and it isn't a cheap punt!
Hi Rebecca.
Thanks for the feedback. That is quite an unusual report. If you would like to call for some more help using the product please don't hesitate. Every horse is different and we have protocols depending on the circumstances.
This Really Works
Our 32 year old pony Splash has Cushings and periodically suffers with diarrhea. He had a severe bout in September and we had been unable to help him until we found Gastro Aid. We started him on the paste and he showed improvement very quickly. He is now on the powder form and doing really well, there has been no further bouts of diarrhea even in the recent wet weather which will usually trigger a bout. He is really happy and so are we.
Amazing results
First I used a course of the Gastro paste for a horse that was scoped grade 1 ulcers. He started to become very sensitive around the flank area. Now following with the Gastro aid powder. He's now happy with me grooming & touching his flank area. Brilliant stuff!!!
My horse has been on this for over a year now and has certainly benefited from it. He's a sensitive soul and this works.
Super product!
Absolutely love this product! I have two horses on the yard on this and has helped massively!