Supplement for maximum muscle function without stiffness
ABOUT THIS PRODUCT
Cavalor LactaTec supports optimum muscle performance at crucial moments and promotes speedy recovery, prevents muscle fatigue, and keeps your horse feeling supple.

Cavalor LactaTec is a complete supplement that supports muscle activity, stimulates muscle recovery and prevents stiffness, damage, and fatigue in a variety of ways.

It promotes efficient interaction in numerous metabolic processes, keeping muscles supple and able to convert energy effectively without side effects. This allows the horse to give its best performance during intense training periods or multi-day events.
DID YOU KNOW
Two common muscle problems are fatigue and tying up. The right feed and training lets you postpone fatigue, allowing your horse's muscles to recover more quickly and also preventing tying up.

The right feed plan will match your horse's diet to the nutrients it needs, and energy sources to the type of performance you need.

For horses with sensitive muscles we also recommend a ration that's higher in fat and fibre. Such horses often benefit from a combination of Cavalor FiberForce and Cavalor Endurix.

Horses that perform short, explosive energy bursts, for example in jumping, need starch and sugars. The ideal feed for this is Cavalor Perfomix: it contains cereals like oats and wheat for high-energy peaks.

For sustained hard work, there is Cavalor Endurix: a high-fat feed to stimulate aerobic metabolism and delay muscle fatigue.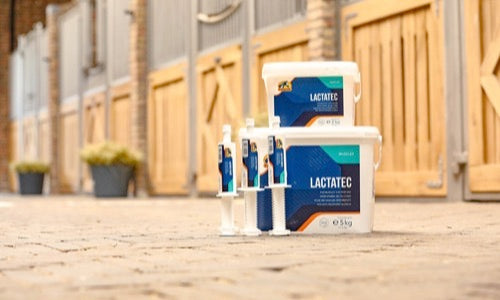 HOW TO USE
Give 1/2 syringe on the evening before and 1/2 syringe on the morning before hard work or competition. Furthermore, a dose of LactaTec directly after work appears to aid recovery.
INGREDIENTS
Cavalor LactaTec is a multi-ingredient product that supports muscle activity, stimulates muscle recovery, and prevents muscle problems such as stiffness, damage, and fatigue in a variety of ways.

This allows the horse to give its best performance, especially during intense training periods or multi-day events. Cavalor LactaTec contains minerals such as sulfur (S), magnesium (Mg) and manganese (Mn) to counteract muscle tension and promote flexibility and endurance in the muscles.

It also contains vitamins B1, B2, and B12 for better carbohydrate metabolism, nerve transmission, and oxygen supply to the muscles.

Cavalor LactaTec is a powerful antioxidant blend that creates a strong defence against free radicals with relatively low doses per ingredient. It prevents muscle acidosis and stiffness by neutralising lactate and restoring the acid-base balance.

Cavalor LactaTec contains whey proteins to help prevent muscle damage and with an ideal amino acid profile for quick and effective regeneration of damaged muscle cells. It also contains essential oils for extra muscle support.

More information about this product can be found in the product data sheet. You can download this data sheet by clicking on "specifications"