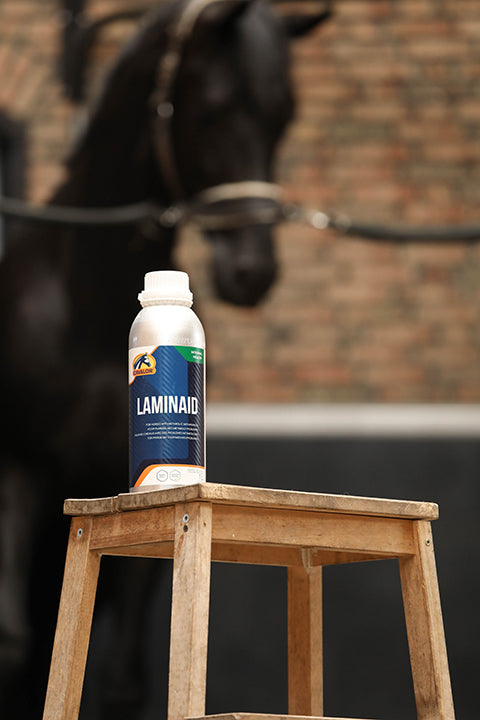 Supplement for horses with sensitive hooves
ABOUT THIS PRODUCT
Cavalor LaminAid is recommended for horses with sensitive hooves. Cavalor LaminAid works on different levels in the body to holistically support internal systems.

It supports a horse's delicate intestinal flora, hormonal and metabolic processes. Cavalor LaminAid also helps to support blood circulation and blood flow in the hoof.
DID YOU KNOW
Inflammation between the hoof wall and the coffin bone is usually the result of a metabolic disorder or metabolic problems and can be either chronic or acute.

Along with inflammation in the hoof, circulation problems in the foot where fluid accumulates.

As the hoof wall can only expand slightly, this accumulation is accompanied by severe pain. Horses try to relieve the pressure on the coffin bone by leaning back and shifting their weight to their heels.

Sometimes they even refuse to stand up. In severe cases, the coffin bone can come loose from the hoof wall and rotate. Such damage is irreversible and therefore prevention is absolutely crucial.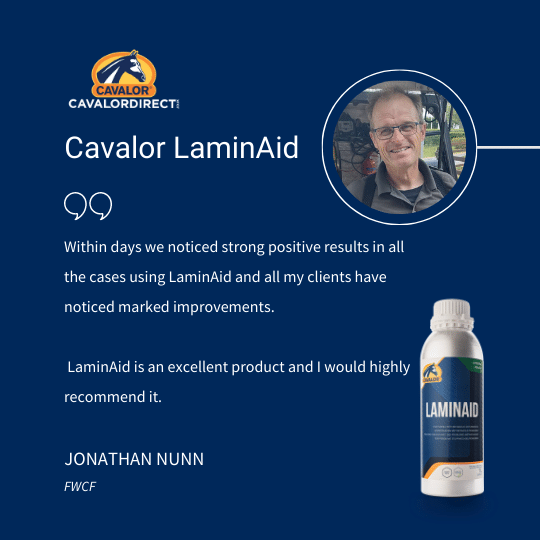 HOW TO USE
Per animal per day: Day 1: 2 x 50 ml.
Day 2 onwards: 2 x 25 ml per day.

For long-term use (30 days or longer): 2 x 10 ml per day. For best results, use in combination with Cavalor PodoSens.
INGREDIENTS
Cavalor LaminAid is a unique, balanced combination of several essential oils including Eucalyptus globulus, Allium sativum, and Betula alba.

Each of these has its own specific structure, composition, and effect. Combined, they complement one another other with synergistic and powerful effects.

Cavalor LaminAid contains a unique combination of essential oils that are scientifically proven for long-lasting effect.

An appropriate feeding, care, and exercise plan is essential for best results.

More information about this product may be obtained on request
Fabulous
Love all products from this company, super efficient service - yes they are costly but I'll suffer that blow for the customer service and quality of product, had a horse with mild laminitis so it was great to start managing this from the inside out! Bit stinky but horse didn't mind, I used the syringe supplied, great idea with the plastic cap for easy administration into the syringe.
Would use again
Brilliant service!
Brilliant product, quick delivery. Will definitely order again soon!
Pony suffers with Laminitis and has EMS
Since starting laminaid Henry has returned to 8 hrs turnout and now is back in just normal shoes. Very happy
Excellent product, can't believe the difference in such a short time
It works!
I decided to try laminaid after my laminitic pony started to go footy despite strict grazing, feed, weight and exercise management. I had seen the product a few months before. Within 3 days I could see that she was improving. I plan to keep her on the maintenance dose for now and wish that I had seen laminaid 2 years ago when she foundered. I am also using the Podosens oil which is lovely!