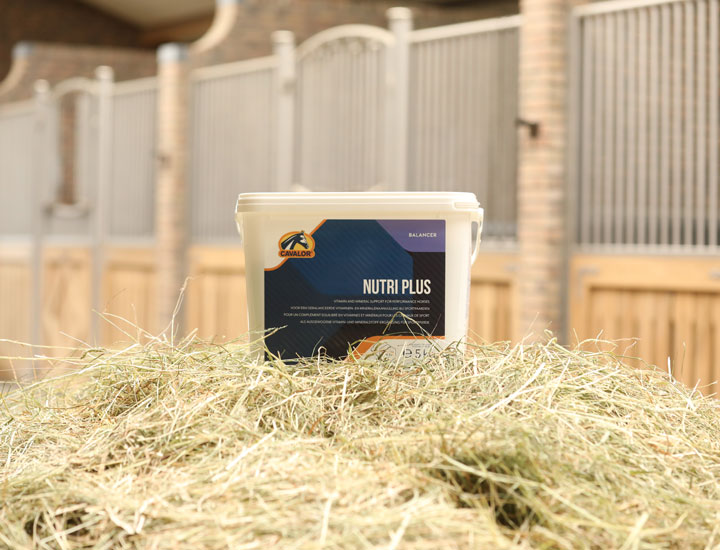 Complete nutritional support for sport horses
IN BRIEF
Cavalor Nutri Plus is Complete nutritional support for sport horses
horse will eat approximately
0.15
Kgs of Cavalor Nutri Plus per day.
A bag will last around 33.3 days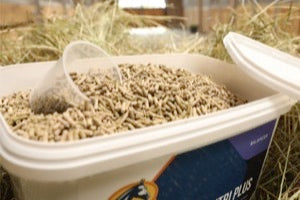 DID YOU KNOW
Cavalor Nutri Plus contains all the nutrients your sport horse needs for top performance. NutriPlus is intended to supplement sufficient roughage, if necessary with added grains for horses that need extra energy.

Sport horses have higher requirements for certain vitamins and minerals than leisure horses. They drink and sweat more, so they need water-soluble vitamins or vitamins and minerals that support and protect the muscles.

Cavalor Nutri Plus contains all these nutrients so that horses can perform their best. Cavalor Nutri Plus does not contain extra energy and protein and will not make horses or ponies hot or overweight.
PRODUCT CONTAINS:
Often horses are given less than the recommended amounts of concentrate feed for fear of making them "hot", or given energy in the form of simple grains like barley, oats, or wheat.

Care should be taken to ensure that their rations have everything they need. Sport horses have increased requirements for certain nutrients.

These include proteins and amino acids for the production and recovery of muscle tissue, electrolytes that are lost during perspiration, B-vitamins that play an important role in energy transport, and antioxidants such as vitamin E and selenium that protect muscle cells.

Grass and hay are often high in energy and protein but contain insufficient vitamins and minerals. Deficiencies can also occur when a horse is fed only simple grains such as oats or barley, or less than the recommended amount of concentrate feed.

It is therefore important to supplement rations consisting solely or mainly of roughage with vitamins and minerals.
HOW TO USE
Halve the amount if your horse is fed more than 1.5 kg of concentrates per day.
1 measuring scoop = 100 g – Maximum quantity per horse: 400 g.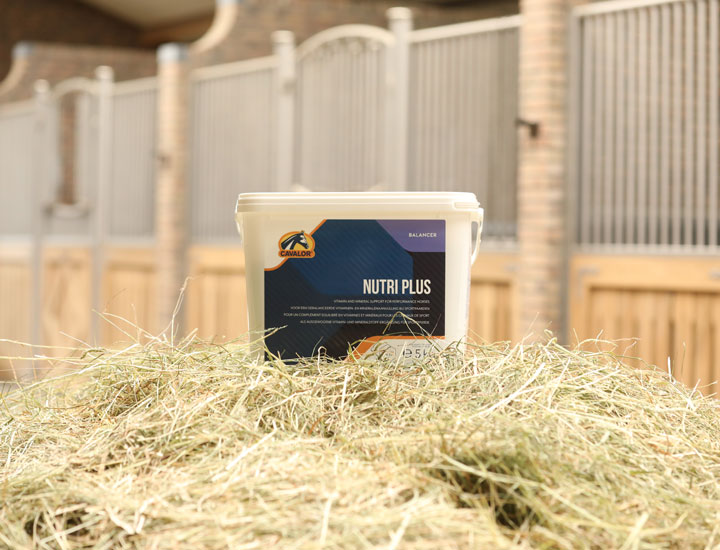 ANALYSIS
| | |
| --- | --- |
| DE | 0.0 MJ/kg |
| EWpa/kg | 0.0 / kg |
| VREp % | 0.0% |
| Crude protein | 12.1 % |
| Crude fat | 4.6 % |
| Crude fibre | 6.4 % |
| Crude ash | 4.09 % |
| Sugars | 7.0 % |
| Starches | 7.0 % |
| Starch/feed | 4 g |
SPECIFICATIONS
INGREDIENTS
Cavalor Nutri Plus is ideal for supplementing rations consisting of mostly roughage and little concentrates.

Cavalor Nutri Plus contains all the vitamins, minerals, trace elements, electrolytes, fatty acids, and amino acids a sport horse needs to deliver maximum performance. It takes into account the nutrients that are present in the roughage.

For example, we do not add any extra iron because roughage already contains large amounts of iron. Cavalor Nutri Plus focuses on the needs of sport horses.

Macro-minerals such as calcium and magnesium, and electrolytes including potassium, sodium and chlorine are important to support good muscle and nervous system function.

Vitamin D, manganese and anti-oxidants including selenium and vitamins E and C also ensure improved muscle function. Cavalor Nutri Plus also higher in B-vitamins and water-soluble vitamins because sport horses drink more and lose more fluids.

These vitamins play an important role in energy metabolism and are therefore vital to sports horses. Folic acid is key for the production of red blood cells and is consequently crucial for optimum condition.

More information about this product can be found in the product data sheet. You can download this data sheet by clicking on "specifications"
Great Products
Good value for money so all of my horses are on this now. Also super service 100% happy with the way my horses feel and look.
Nutri Plus
Excellent way to get high quality nutrients without calories. Very pleased.