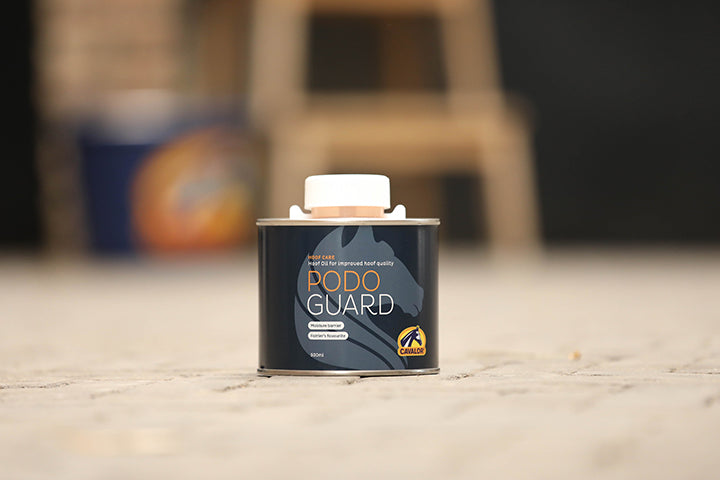 Premium Hoof Oil For Improved Hoof Quality
ABOUT THIS PRODUCT
Cavalor PodoGuard is a unique mix of nourishing essential oils that penetrate deep into the hoof for optimum conditioning. Cavalor PodoGuard's nourishing oils penetrate deep into the hoof for an ideal moisture balance and promote improved hoof growth, development, and quality.

Crumbling and damaged hooves will recover more quickly through healthy hoof horn growth.
DID YOU KNOW
Did you know that a healthy hoof expands and contracts when the horse is moving? The hoof's natural flexibility allows this to happen.

Large fluctuations in temperature and humidity from day to night, especially during the summer, make it difficult for hooves to retain their moisture. Too-dry hooves will become inflexible, resulting in crumbling hooves.

Too much moisture is also not good. Hooves consist primarily of keratin, the same substance in fingernails. They become soft when wet, losing their natural oils and becoming more susceptible to intruders. Cavalor PodoGuard provides a layer of antibacterial protection that keeps out moisture and microorganisms.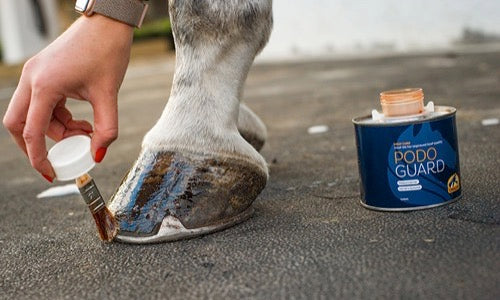 HOW TO USE
In dry environments:
Use Cavalor PodoGuard several times a week on cleaned hooves to prevent moisture loss and crumbling.

In wet environments:
Use Cavalor PodoGuard several times a week on cleaned dry hooves.

Warning: For external use only
INGREDIENTS
Cavalor PodoGuard contains a real antibacterial barrier to keep moisture and microorganisms out. This makes Cavalor PodoGuard the ideal blend to protect your horse's hooves against every environment.

More information about this product can be found in the product data sheet. You can download this data sheet by clicking on "specifications"
Fantastic.
Fantastic product that keeps my horses hooves in perfect condition.
Fab product
Have used many hoof treatments over the years but this one stands out with is clean smell and long lasting application, can still see it working after 24hrs ..highly recommend 5*s .
Podoguard review
Fabulous stuff, I will be ordering some more!