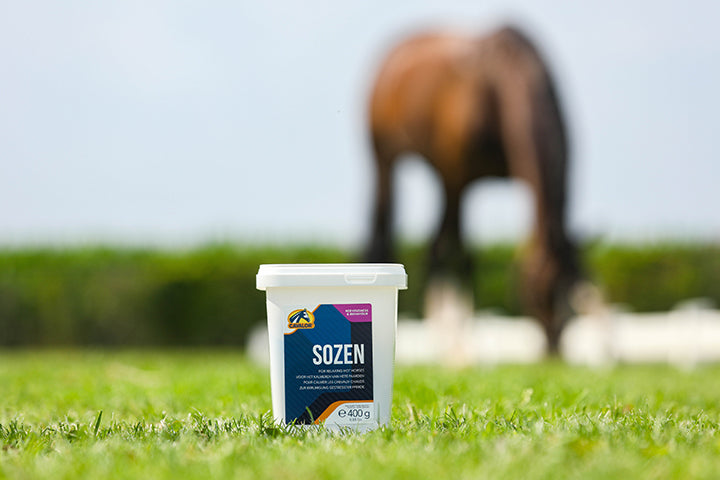 ABOUT THIS PRODUCT
Cavalor SoZen is the natural solution to stress. It calms and relaxes hot or nervous horses.
Horses that are nervous by nature are subjected to chronic stress coupled with excessive adrenaline and cortisol production.

Cavalor SoZen's unique approach lies in its response to the imbalance between cortisol and adrenaline. This versatile approach is highly effective in horses that show too little response to, or have a high tolerance for, products based solely on tryptophan.
DID YOU KNOW
Just like people, horses experience nervousness. Some horses are more susceptible than others, based on their breeding or rearing, for example.

Not all tension is bad. Horses and humans both need a certain amount of tension to perform to the best of their abilities, but constant pressure or stress increases the likelihood of health problems.

Ensure that your horse gets adequate exercise and has a pleasant stable environment and a healthy diet. A horse's diet can have an enormous influence on nervousness and behaviour.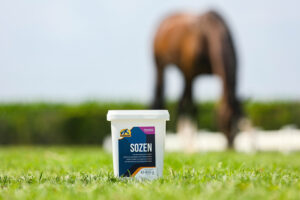 HOW TO USE
When using Cavalor SoZen, it is important to maintain a dosage of 30 g per day for 10 days. Horses quite often become more nervous during this period, between day 4 and day 6.

It is important that you continue to administer the product. This reaction is a sign that the body is responding and that the product is working. After this initial 10-day period, you can administer 20 g of Cavalor SoZen daily for maintenance to nervous horses, or as a pre-competition regimen starting 3 days before competition and adjusting the dosage as needed.

1 measuring scoop = 10 g. Maximum 60 g per horse per day.

Tip: Repeat the ten-day start-up period if your horse has not been given Cavalor SoZen for more than 4 months. Tip: For stress peaks during events, Cavalor SoZen may be supplemented with Cavalor Take It Easy (Forte).
INGREDIENTS
Cavalor SoZen is a powerful formula consisting of herbs, herbs, and more herbs. This formula's power is not from the individual herbs it contains, but through their synergistic effects when combined.

This special formula contains Ginseng, Humulus Lupulus, Ruta Graveolens, Solidago Virgaurea, Hypericum Perforatum, Urtica dioica and Glycyrrhiza Glabra.

It also contains added magnesium and tryptophan to promote relaxation. The herbs influence the adrenal glands, regulating the endocrine system and restoring balance between adrenaline (for alertness) and cortisol (control of adrenaline).

They also help to promote relaxation and concentration. This not only addresses the effects of stress, it also helps lower stress in nervous horses.

More information about this product can be found in the product data sheet. You can download this data sheet by clicking on "specifications"
Solzon
Excellent product and very prompt service Thank you
Hi unfortunately the calmer did not work at all it had the opposite effect on my pony and he was really anxious and upset .i followed instructions to the letter but pony was the worst hes ever been.
Thanks for your feedback.
As discussed, with this product things can actually get worse before they get better which is frequently a sign that it is working.
Of course, as also discussed, supplements aren't always the answer to behavioural issues - there is only so much they can achieve and remain competition legal.
There are products on the market that are pretty much guaranteed to work in any circumstance as they are natural sedatives - but not competition legal and hence not in our product range.
Best Wishes
Rob
Brilliant
Wonderful calmer really does what it says on the tin! Very pleased horse and rider
Sozen
The pony I used this on arrived with me because he had become so overwhelmed with anxiety about everything he had become virtually unrideable and very stressed even being handled on the ground. He wouldn't even look at you. I genuinely think Sozen has saved his life, it seemed to slow down the voices in his head allowing him to breath and take life and me in. He's now on just the Calm and I am looking forward to a bright future for him, although probably always with a neck strap!!
Amazing
Really struggled with a very stressed horse for a number of years and Sozen worked within two days completely amazing to have the horse back and so pleased he is happier and relaxed