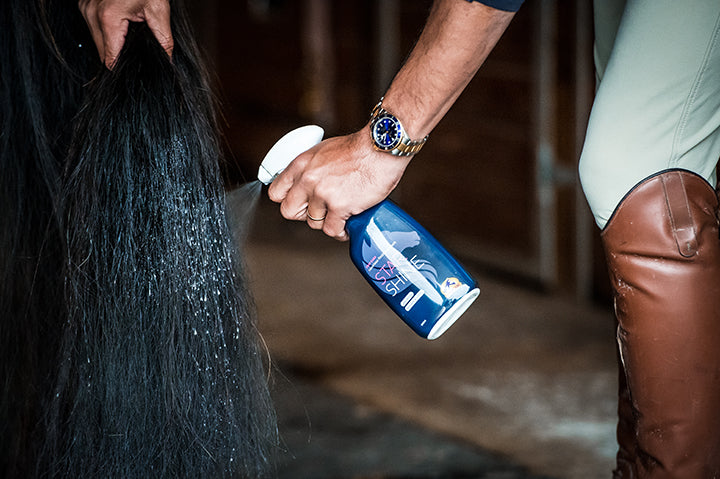 Luxurious Finishing Touch & Detangler
ABOUT THIS PRODUCT
Cavalor Star Shine is a long-lasting conditioning spray with a unique and pleasant fragrance. Cavalor Star Shine gives the coat a brilliant shine and keeps mane and tail tangle free for days.

Cavalor Star Shine is made of high-quality ingredients and is also pH neutral.

Its skin-friendly formula keeps coat, mane and tail moisturised, giving hair more volume and elasticity, no static, and a healthy, well-maintained look.
DID YOU KNOW
Apply Cavalor Star Shine to coat, mane, and tail for extra long-lasting effects.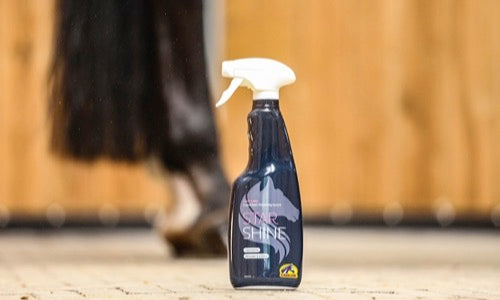 HOW TO USE
Ideally, spray Cavalor Star Shine on the wet coat, mane, and tail immediately after washing. For best results, brush the horse afterwards with a wool or cotton cloth.

Warning: For external use only
INGREDIENTS
Cavalor Star Shine contains a high-quality silicone blend. We use silicone because we are convinced that this is essential to a good detangling spray. The importance of good quality silicone should not be underestimated. The low-quality silicones found in many cheaper products can damage hair.

Cavalor Star Shine helps to prevent stains from forming on the coat and repels dust and dirt. It gives each hair a protective coating to prevent tangles. This protective layer helps to prevent hair breakage and loss during combing. Cavalor Star Shine helps to repair damaged hair and improves coat colour and structure for an unforgettable shine.

More information about this product can be found in the product data sheet. You can download this data sheet by clicking on "specifications"
Cavalor products are exceptional.!!
Just love all their products especially the washes are brilliant.!
Great product
Smells nice and makes tail brushing much quicker and easier, without much hair loss. Would recommend.
Long lasting shine
This product smells fabulous and a small application lasts several days, unlike similar products on the market!
Love this product!
I researched the best conditioner and found an excellent review for Cavalor on Horse and Hound. The spray is long lasting and really does the trick. I've got shiny, happy ponies!