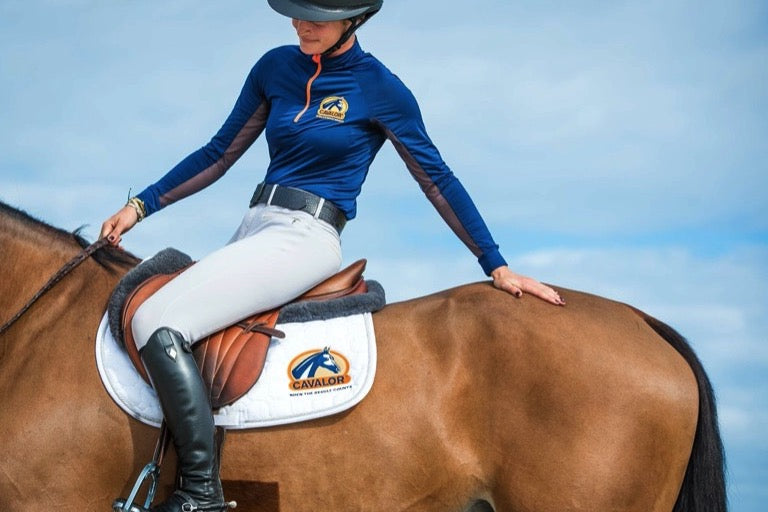 To Promote Composure & Relaxation
ABOUT THIS PRODUCT
Cavalor Take It Easy paste helps to relieve stress so that your horse is calmer and more focused in competition.

Cavalor Take It Easy promotes composure and relaxation in short-term stress situations. Cavalor Take It Easy is an oral paste in a syringe and is ideal to promote composure and focus during competitions.
DID YOU KNOW
Stress stimulates the hypothalamus, the part of the brain that regulates balance in the body, emotions, and needs such as hunger and thirst.

The hypothalamus sends signals to the adrenal glands through the spinal cord and the nervous system. The adrenal glands (medulla and cortex) produce large amounts of adrenaline, noradrenaline, and cortisol. Adrenaline makes the body alert and able to react quickly. Cortisol keeps your horse alert for a longer period of time. Like adrenaline, cortisol increases the heart rate, pumping oxygen through the body. Cortisol also increases blood sugar, resulting in more energy for a longer period.

Healthy tension ensures that your horse can continue to perform under pressure. After competition (or intensive training), tension is released and adrenaline and cortisol drop back to normal levels. When a horse experiences prolonged stress, the amount of cortisol in the body remains too high. Cortisol raises blood sugar levels – prolonged stress also leads to too much glucose in the body.

Long-term stress will cause your horse to have health issues over time.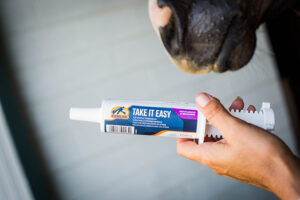 HOW TO USE
For best results: 20 cc the night before, 20 cc in the morning and 20 cc 1 hour before the stressful event. Maximum 3 tubes per day.
INGREDIENTS
Cavalor Take it Easy contains a high dose of L-tryptophan, which, in combination with vitamin B1, can be absorbed quickly and efficiently by the body. Tryptophan stimulates the production of serotonin, a substance that is naturally present in the body and which acts as a natural defence against stress.

Vitamin B1 assists in impulse transfer to the nerves, supports the adrenal glands, and brings calming effects. Cavalor Take it Easy also contains magnesium, which helps to relax muscles.

More information about this product can be found in the product data sheet. You can download this data sheet by clicking on "specifications"
Amazing
My horse was superfit for his 160km endurance race two weeks ago and almost unrideable so spooky. The evening before the race and the morning of the race I gave him half a tube and he was amazing at the start of the race, he did not spook at all but was keen and focussed and even led the group I was riding with, something I have never been able to do with him as normally he is so spooky there is a big risk of everyone piling up on him, im super impressed with the product and will definitely use it for his next race! Thank you
Calmer
Excellent product definitely helps ,excellent customer service, quick delivery. 5 star all round .
This works!
I tried this product for a competition. My mare is hot and can become very tense in the test arena.
Take it easy made her relax and remain focused
Very effective
Used during this weeks storms - we lost part of our stable roof and three horses were all freaked out, gave quick effective calmness