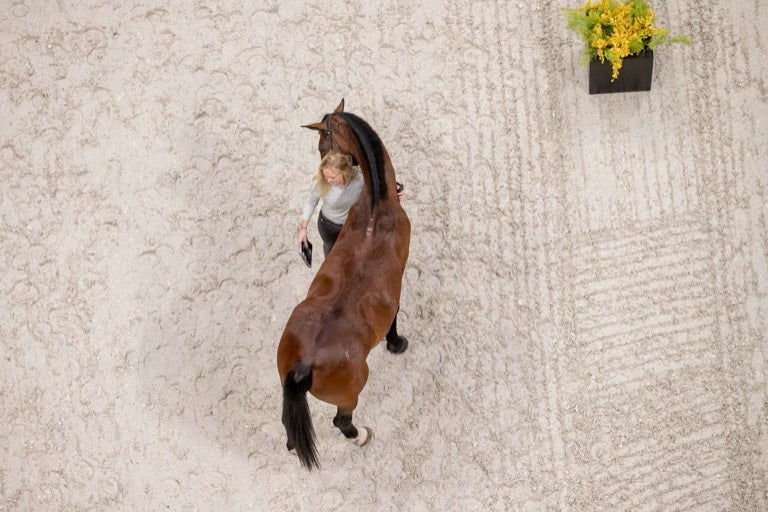 Cavalor Vitamino - Muscle Building Supplement
A Protein Balancer for strong muscles
SUMMARY & USAGE
Cavalor Vitamino - Muscle Building Supplement is A Protein Balancer for strong muscles
horse will eat approximately
0.75
Kgs of Cavalor Vitamino - Muscle Building Supplement per day.
In this case a bag will last around 26.7 days and cost approximately $3.30 per day
A Cavalor feed scoop contains 1179g.
This product weighs 786g per Ltr for comparison in other scoop sizes.
Per 100 kg BW Min 100g Max 200g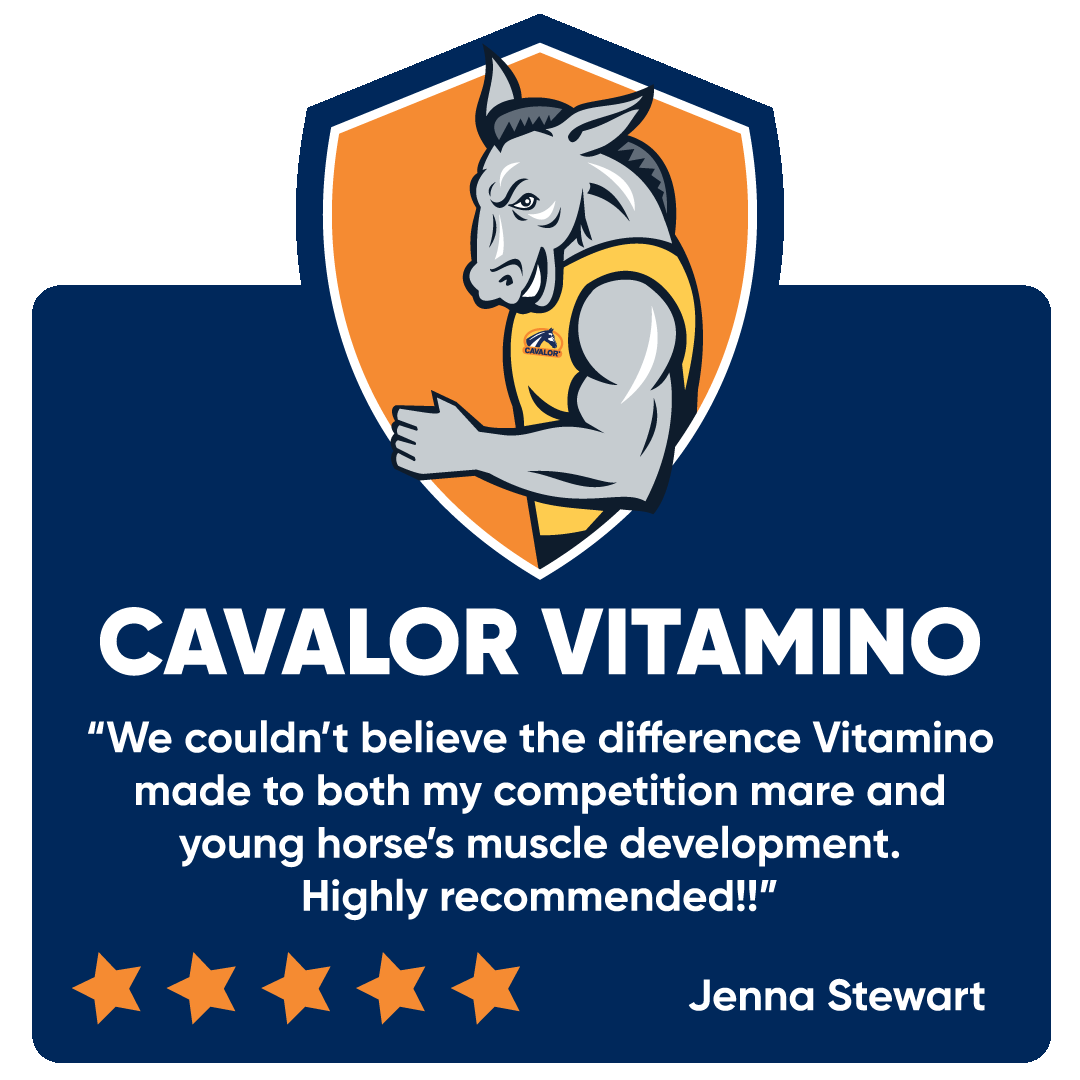 MORE ABOUT
Cavalor VitAmino is a protein balancer for horses that need more muscle mass. This balancer is a source of quality proteins with high digestibility and an specific amino acid profile for building muscle mass.

Contains high-quality proteins and the right amounts of essential amino acids to help meet your horse's needs. These are digested in the small intestine and therefore help build muscle mass. Contains vitamins, trace elements and minerals for balanced nutrition.
DID YOU KNOW
SUPPORTS MUSCLE MASS IMPROVES TOPLINE
Supports the development of muscle mass and improves the top line. Cavalor VitAmino supports muscle retention and helps build up your horse's muscles. The protein the muscles are made up of is a chain of interlinked amino acids. In addition to sufficient building materials, which the horse gets from high-quality protein that is digested in the small intestine, sufficient energy is also needed to allow the process of building up muscle mass to continue.

An adapted exercise schedule is essential for maintaining and developing muscles, in addition to the right nutrition. This is because muscle breakdown occurs during exercise. Small tears appear in the muscle fibres. This triggers the body to make new muscle fibres. Cavalor VitAmino provides the amino acids needed so that muscle recovery and build-up can take place together with effort. In addition to the right feed, an appropriate exercise schedule is essential for muscle maintenance and development.

HIGHLY DIGESTIBLE PROTEIN BALANCED AMINO ACID PROFILE
Provides a balanced amino acid profile from highly digestible proteins. The specific composition of Cavalor VitAmino offers an amino acid profile very similar to that of the horse's muscle protein. Essential amino acids, including lysine, methionine, leucine, etc. must be absorbed through food.

Cavalor VitAmino consists of high-quality protein sources including soy, alfalfa and potato protein that are digested in the small intestine and broken down into amino acids.

The amount of each and the correct ratio (also called the amino acid profile) of these amino acids determine proper muscle development. Just like puzzle pieces that together make one puzzle, for muscle tissue to develop, a sufficient amount of the amino acids needed must be available in the right proportions. If even one amino acid is missing, the process of muscle building is slowed down.

MULTIVITAMINS AND MINERALS
Contains highly absorbable vitamins, trace elements and minerals to maintain the nutritional balance of the ration.
HOW TO USE
For good nutrition, your horse needs roughage (spread out over several times a day) and a constant supply of fresh drinking water. This foundation can be supplemented with a balancer or concentrate feed as needed. And fine-tune your horse's diet with supplements #feedasyouneed

Feeding recommendations for Cavalor VitAmino:
For adult horses, we recommend a minimum of 100 g and maximum 125 g per 100 kg body weight per day. For a 600 kg horse this means a minimum of 0.6 kg and a maximum of 0.75 kg per day. For senior and elderly horses, we recommend a minimum of 100 g and maximum 200 g per 100 kg body weight per day. For a 600 kg horse this means a minimum of 0.6 kg and a maximum of 1.2 kg per day.

For sport horses, we recommend a minimum of 100 g and maximum 200 g per 100 kg body weight per day. For a 600 kg horse this means a minimum of 0.6 kg and a maximum of 1.2 kg per day. Divide the concentrate feed over several portions per day, preferably after feeding roughage.

Tip: not all feed scoops are the same size. Weigh the contents of your feed scoop so that you know exactly how much your horse is getting.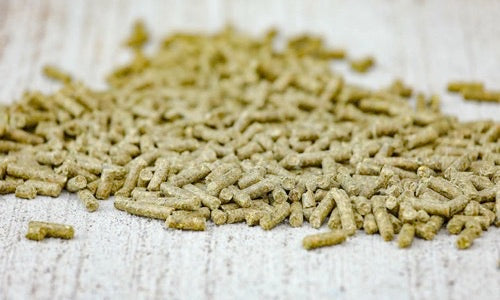 ANALYSIS
| | |
| --- | --- |
| DE(NRC) | 11.7 MJ/kg |
| NE EWpa(CVB) | 0.64 EWpa/kg |
| VREpa(CVB) | 308.0 g/Kg |
| Crude protein | 35.0 % |
| Crude fat | 2.0 % |
| Crude fibre | 8.5 % |
| Crude ash | 9.0 % |
| Sugars | 7.0 % |
| Starches | 7.0 % |
| Calcium | 1.0 % |
| Magnesium | 0.5 % |
| Phosphorus | 0.6 % |
| Sodium | 0.1 % |
| Starch/feed | 18 g |
FULL SPECIFICATIONS
INGREDIENTS
Soya feed (produced from genetically modified soya)
Alfalfa
Patato protein
Wheat middlings
Beet molasses
Wheat bran
Fenugreek
Calcium carbonate


More information about this product can be found in the product data sheet. You can download this data sheet by clicking on "specifications"
Cavalor Vitamino - Muscle Building Supplement
Vitamino - 10/10 - New Staple
I have been feeding Cavalor products for over a decade so I'm already wholly dedicated to the brand. In this instance, I felt I needed to adjust my feeding for a particular youngster. I received conscientious, thorough and prompt advice from Rob. It took less than two weeks of feeding (at the minimum requirement for a horse in work as a supplement to his Pianissimo) for me to notice a difference. The product helped achieve exactly what I wanted - helped build muscle all over with no change in attitude (using on a 4yo stallion in the midst of breeding season so this was a big concern!). I will continue using this product indefinitely.
Highly recommend!
We couldn't believe the difference Vitamino made to both my competition mare and young horse's muscle development. Highly recommended!!
Another fabulous Cavalor product!
I purchased this on advice to help an older horse add strength and muscle while stepping up work. I can only say he looks an absolute picture. It has helped him build muscle and strength in work without making him sharp or indeed adding extra calories! Another brilliant Cavalor product that does exactly what it says on the bag!
Amazing, works wonders.
This product has made my mare look so mature and muscled up in just 3 weeks, alongside the correct exercise.
Also, such great, speedy customer service!